The Eco Designer's Guild is a group of professional designers based in the city of Pittsburgh, who are working together to inform, empower and inspire the community and its leaders to further sustainable practices at home, in urban and green spaces, and the collective culture. The eDG also addresses social problems spanning issues of green practices, community revitalization and promoting local, organic foods.
Green+Screen
The Green+Screen project is an effort to revitalize a once vibrant main street corridor through the installation of environmental art projects that both mask blighted urban facades and promote sustainable practices in the community. The project began with a strategic masterplan identifying 30+ urban voids along the main street of Penn Avenue in Pittsburgh, Pennsylvania. Each G+S project involves design research, concept generation, design development, engineering, construction, and installation performed by a team of volunteers comprised of designers, engineers, architects, landscape architects, artists, and writers.
Chop, WOK & Talk Installation
The project illustrated below shows the ongoing evolution of a project for an all to common landscape void surrounding a parking lot of a local business.
Project and Image Credits:
Project Design, Facilitation, and Teaching: Matt Zambelli, Rebecca Mizikar, PSU Larch 312 Spring 2012
Visualization and Fabrication: Matt Zambelli
Chop WOK & Talk site during initial design phase. Project area is the landscape median surrounding the parking lot.
 On site design charette with the business owners and community members.
Site
Protect existing vegetation to remain
Extrude volume to make screen
Slice volume horizontally to accommodate for sheet material fabrication
Cut volume to allow for site access
Evaluate material costs and prominent views
Optimize design volume
Divide into doubly curved strips
Rotate for material costs and emergence
Final resource analysis
 Addition of sensors for light and information interaction
Rendering of proposed project from Penn Avenue intersection
 Interaction with sensor information via QR code and COSM
Fabrication process of continually curved perforated lights from 3/4″ sheet material (plywood)
Simulation of surface milling operation for 1/4″ insets to hold acrylic in place
Simulation of surface milling operation for the remaining perforation openings
Simulation of profiling operations for laminated strips and top/bottom enclosures
3 Axis CNC milling of the structure (9 total sheets)
Manual sanding of each individual strip
Lamination process to create the continually curved perforated surface
Lamination process continued…
Bottom piece added
Students experimenting with finishing materials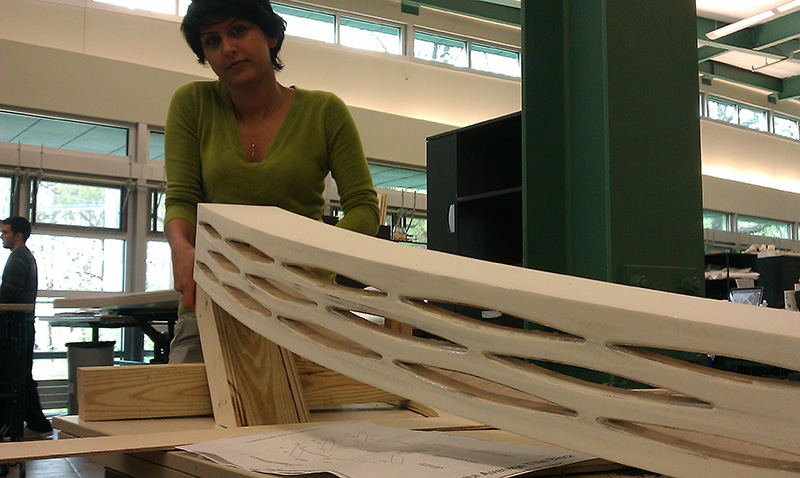 Students experimenting with support structures
Last minute prep before the students final review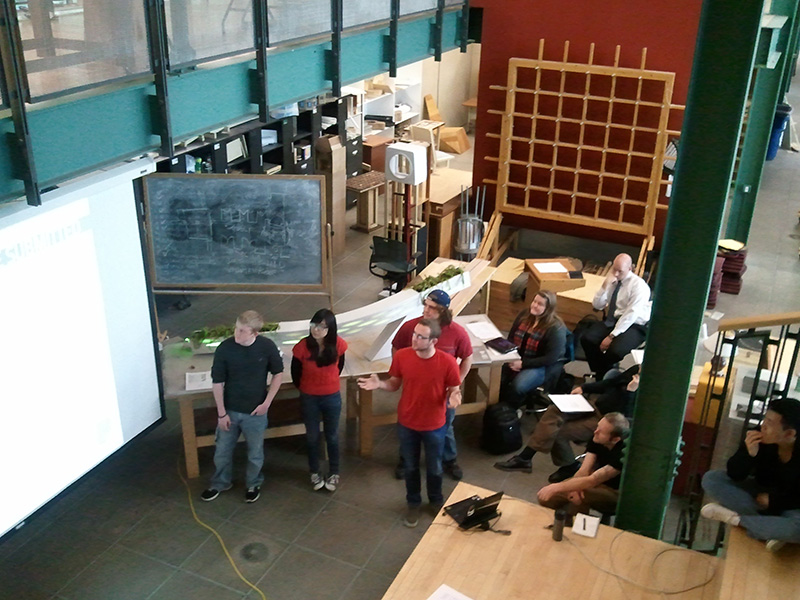 Students presenting with full scale mock up after a 7 week design/fab course
Students final prototype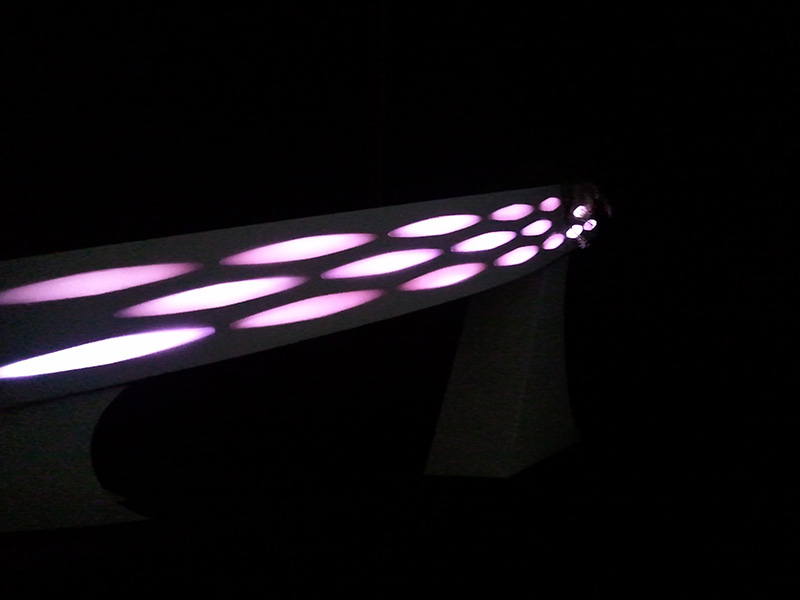 Pattern design and surface milled acrylic lenses give the appearance of motion